Heatherwood, Waterview Villa Featured As Top Rhode Island Nursing Homes
RHODE ISLAND — Two of Athena Health Care Systems' Rhode Island-managed nursing home facilities, Heatherwood Rehabilitation & Health Care Center in Newport and Waterview Villa Rehabilitation and Health Care Center in East Providence, are being recognized as top nursing facilities in the state.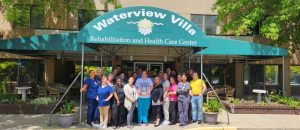 The centers were honored in the May 2023 edition of Rhode Island Monthly, the 2023 Top Doctors issue. Winners are determined based on in-depth research conducted by a national research and data company, the publisher says. The factors it looks at include state and federal government sources, Medicare ratings, length of operation under the same ownership, local media coverage, and other public sources.
"Waterview Villa Rehabilitation and Health Care Center being recognized as a Top Skilled Nursing Home in Rhode Island is an honor that I accept on behalf of the individuals who make this a reality day to day; our staff. Each member of our family of employees is caring, compassionate, and dedicated to making a difference in the lives of our residents and their family members. They develop extended family relationships with our residents and make the effort every day to ensure their satisfaction with our care and services," Brian Brown, Administrator at Waterview Villa, said.
"I think it's nice to get the recognition for the centers. There's a lot of people at both facilities across all of Athena that work very hard and I tell people all the time that means a lot," Joe Silva, Regional Director of Operations for Rhode Island and Massachusetts, said. "The fact that they get the recognition is some nice wind in their sails to feel like they're not only making a difference in the residents' lives but that it's being recognized by the outside public because that doesn't always happen."
Silva said no matter what changes happen in a center, the frontline workers are the backbone of the facility and that shows.
"I'm excited for the year forward. I think both facilities are in a good position to move forward and they both have very strong leadership teams," Silva said.
Follow Athena Health Care Systems on Twitter and Facebook. Interested in a career with Athena? Click here!
MORE FROM ATHENA